Micro-Pro Champion

micromotor carving system

Price: $225

Includes free shipping to any US address!

Optional Foot Control:

Micro-Pro Carvers

Now Available!

100% Warranty for one year on control box

and handpiece!

Q. How is a micro-motor carver different from a rotary tool such as a Dremel?

A. Micro-motor carvers have a flexible cord instead of using a flexshaft, making it easier to maneuver the handpiece.  If you hold a Dremel tool in your hand without using a flexshaft, the heavy weight and heat from the motor will make your hand uncomfortable very quickly.  The micromotor tool has a bit less power than a Dremel, but has more speed. 

Q: Can I still use the burs that I already bought for my Dremel tool?

A: Yes, definitely.  The Micro-Pro comes with a 1/8" collet, which is the same size for most Dremel burs (and other brands).  You will also receive a 3/32" adapter that slides right into the existing collet for quick changes to smaller shank burs.  (Optional 1/16" collets for dental burs are also available by special order.)

Q:  Do I need a tool hanger?

A:  No - this tool has a base unit that sits on the tabletop.  It has an attached tool holder for when the handpiece is not in use.  The base unit is small and compact and easy to transport for use in classes.

Q: Is this tool powerful enough to carve gourds?

A:  While the Micro-Pro carver has slightly less power than heftier rotary tools, it is more than adequate for gourd carving.  When using large headed burs, the tool may be strained by heavy duty carving.  The tool will automatically switch off if you overload it, but can be reset and run as normal after a short cooling off period.  Try to avoid excessive "lugging down".  Use lighter pressure.

Q:  I have arthritic hands and my hands are small.  Will this tool work for me?

A:  The true advantage of this type of tool is the lightweight handpiece and flexible cord. These features allow you to hold the tool comfortably for an extended period of time.  The handpiece and flex cord make it possible to do hours of carving with less hand fatigue.






Please contact me to order a Micro-Pro carver, Foredom tool or woodburner.  (Due to packaging requirements, tools are usually shipped separately from other Arizona Gourds purchases.)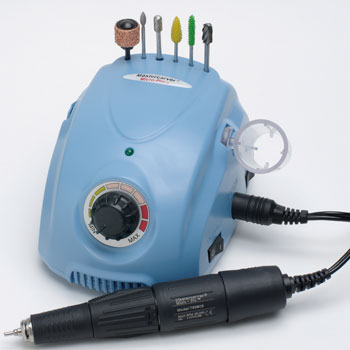 From the Manufacturer:  

Compare Micro-Motor Tools Grinders / Carvers based on quality, features and value: The MICRO-PRO by MASTERCARVER® High-Performance Tools wins Micro-Motor Tool comparisons to: FOREDOM, RAM, TPS, NSK, Gourd Master and more!

Compare component quality: The Micro-Pro features top quality components like NSK bearings and CNC manufactured high precision stainless steel collets.

Compare Micro-Motor Tool Grinder warranties: the Micro-Pro covers the handpiece and control box for 1-full year.

The new Micro-Pro Champion features an 11% increase in torque (power) from their previous models. With higher torque & speed up to 46,000 rpm, the Micro-ProTM has the power, speed, superior features & quality you want, priced far less than others! For better control, power flows to the handpiece by a 6' flexible cord. The dial varies speed from 0 to 46,000 rpm! Control box features: dial speed control knob, lighted power indicator, on/off switch, overload protection, 6-burr storage holes, 110/220 Volt selector, forward/reverse switch (directs chips away from you or for left-handed carvers). Handpiece features high torque, fan cooled micro motor, sealed NSK ball bearings, solid grip turn-ring for hands-free bit changes (1/4 turn releases or locks bits & collets). Handpiece specifications 46,000 rpm: L. 6", diameter 5/8"-1", weight: 7.3 oz. Set includes: handpiece, 3/32" & 1/8" quick change collets, variable speed power supply, table top and box mounted handpiece holders, long-life motor brushes, instructions & 1-year warranty.

Note: Burs not included. For hands-free control add optional on/off foot pedal.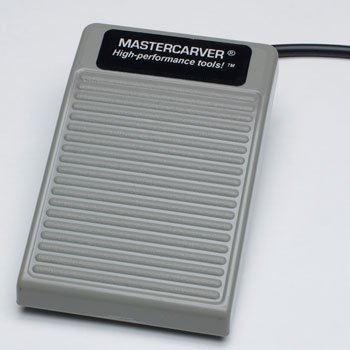 Micro-Pro Champ ON/OFF FOOT PEDAL

Add this On/ Off foot pedal to your Micro-Pro Champion Set for hands free control. Speed is adjusted from the base unit, and power is only on when foot pedal is depressed.   Note: Compatible only with the current MASTERCARVER® brand Micro-Pro Champion model

Micro-Pro Champ ON/OFF

Foot Pedal

Price: $16

1/8" TO 3/32" COLLET ADAPTER  $10

1/8" TO 1/16" COLLET ADAPTER  $10


This adapter slides into 1/8" collets to allow them to accept 3/32" or 1/16" shank accessories without changing the collet. A 3/32" adapter comes with the tool; it is installed in the handpiece when you get the tool.  It may also be used in other brands of micro motor handpieces, or even in Dremel type tools.

Basic repair parts such as replacement switches, handpiece bearings and wrenches are also available by special order.


*Below are selected portions from a tool review I wrote for the May 2012 Arizona Gourds newsletter.  Please note that this review was written as an unpaid and unsolicited review.  It was my findings from this review that made me decide to offer the Micro-Pro Champion on my site.
I've owned a Mastercarver micromotor tool for several years.  Because micromotors inherently have less power than Dremel and Foredom tools, I've used mine primarily for things like filigree hole carving, where the handpiece and soft, flexible cord is easier to hold when using the tool in a vertical position.  I recently bought the newest Mastercarver tool that advertises that it has more torque than their older models.  I also had a chance to compare a competitor's tool and an older model Mastercaver.

My original older model Mastercarver Micro-Pro is about 4 or 5 years old, and is a nice tool with a relatively lightweight handpiece that is is easy to hold. (I often suggest micromotor tools to ladies that have small hands or little hand strength, or only do light duty carving.)  The tool has good speed, but lugs down under heavy pressure, especially when using burs with large heads. When the tool "lugs down" you need to ease off on the carving to avoid overloading the tool. It's lightweight and compact - but it's a precision instrument and must be taken care of to keep the handpiece operating correctly.  Best use for this tool is detail carving, it's not ideal for general use.

I also tried a competitor's micromotor tool (see full review in newsletter for details) which performed similarly to my older Micro-Pro, but had a little less power.  It tended to lug down even while using smaller burs.  I tested two units owned by two different people, and both performed in a similar manner. The tool was advertised as running at up to 46,000 RPM, but the handpieces on both units were clearly marked as being rated for 35,000 RPM.

The last unit I tried was the newest version of the Mastercarver tool, the MicroPro Champion.  This tool advertises that it has 11% more torque than their previous model.  The handpiece on this one is marked for 46,000 RPM.  I gave this new tool a very vigorous workout with several types of burs, and was quite impressed with the extra power it had over either of the other two models I tried. It was definitely more powerful and did not lug down under typical use.   The footpedal is an optional feature with this unit.  This will not replace my Foredom tool for my heavy duty carving, but it's definitely a nice addition to my tool collection