Everglades Patriot 1000 Wood Burning System

Price: $130

Features:

Electronically solid state controlled - 65 Watts

(This unit has more power than many other burners and at a great price!)

Pilot light

On/Off switch

Temperature Dial for all burning styles

Unit consists of a heavy-duty burning pen cord, one heavy-duty spear tip burning pen, & a pen holder.

Pen is fixed tip with comfortable foam grip

* $10 for shipping to any address in the US.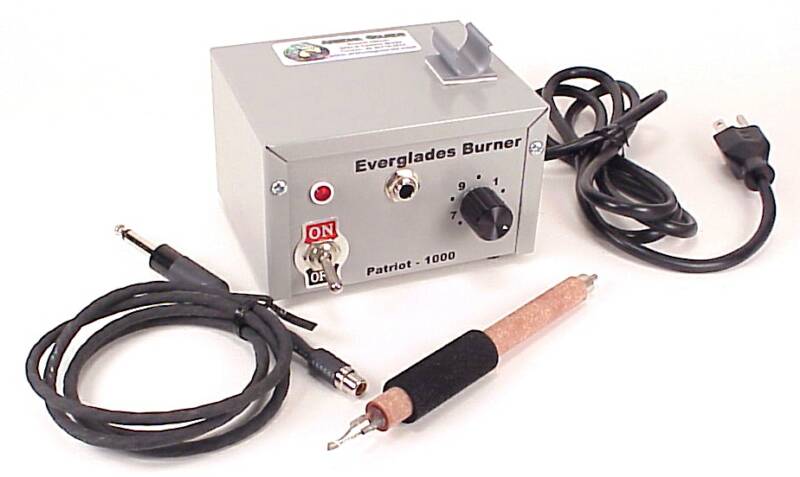 100% Warranty for one year on control box

Second year - parts are free with a minimal labor charge. Since we have no control over their proper usage, warranty on pen burn out is 90 days and cords are guaranteed against defects for 30 days .

The control box has a port that is suitable for all Detail Master pens.   The cord included with the unit accepts most other major brands of burning pens as well as the pen that is included with the package.

*Razertip  pens may be used with an adapter plug.

If necessary, special cords with screw lugs or RCA plugs are available.

Q. Why is only one burning pen included in this package?

A. This basic unit is packaged to my specifications - I do almost all of my burning with only one pen shape!

Of course, other pens are available, and you can use almost any handpieces you currently own.






This is the "Bonnie Gibson Signature Model" spear tip burning pen that is included with each woodburning unit.  Tip length  may vary slightly.

Spear Pen Only - $18    

Heavy Duty Handpiece CORD only - $20

The cord has a radio plug on one end that will also fit Nibsburner, Optima and Colwood pens.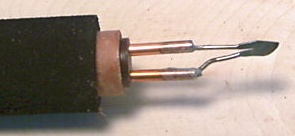 The knife shape is similar to the spear point, it's a bit thinner and has one sharpened, slightly curved burning edge.  $18

Other Optional Pen Styles -  standard pens are $18 each, special shapes are a bit higher.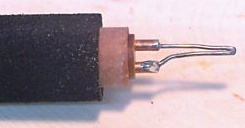 The writing tip is made from a round wire and is not sharp, this way you can use a natural writing motion - similar to writing with a ball point pen.  May also be used to burn small dots.  $18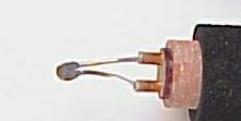 Please
contact me
to order a woodburner.  (Due to packaging requirements, woodburners are usually shipped separately from other Arizona Gourds purchases.)
New -  "Micro-Writing" tip. This one is finer than the regular writing tip for more intricate burning.  $18

The bent round tip shader pen is useful for shading - the bend in the tip allows you to hold the pen at a comfortable angle for shading.  The burning surface is flat. $18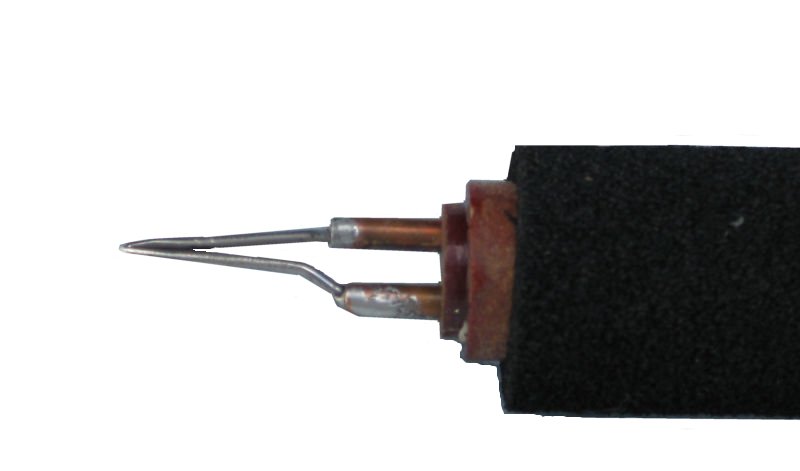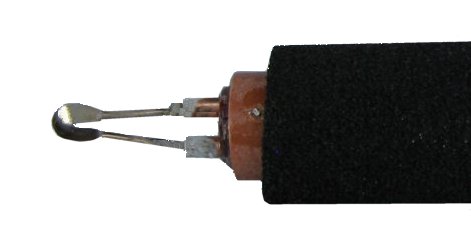 "Spoon" tip. It's hard to see in the photo, but the tip of this pen is acutally convex like the bottom of a spoon.  This is great for soft shading.  $18

New -    Bent tip shaders in SPEAR and SQUARE tips 

The spear tip shader is similar to the spear pen that comes with the burner, but it is angled so that the pen may be held at a comfortable angle for shading.  The fine tip lets you shade in tiny corners and spaces. 

The square tip shader is also bent at an angle, but has a large squared end for burning and shading next to lines.

Spear tip shader





Square tip shader
$18








$20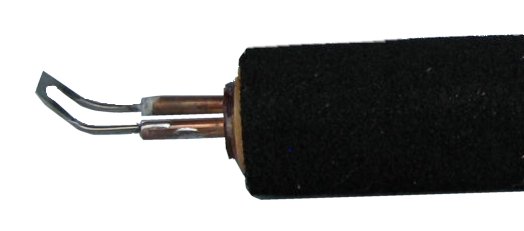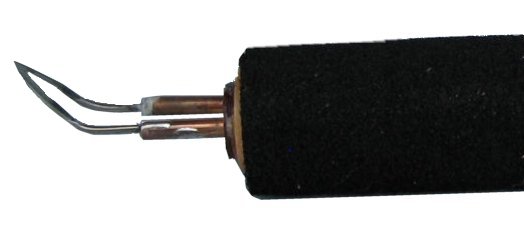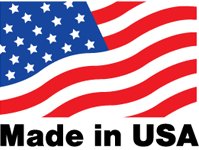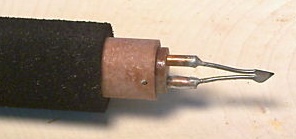 The Skew shape is similar to the knife point shown above, but it's got a sqared off lower heel and the burning edge is straight.  $18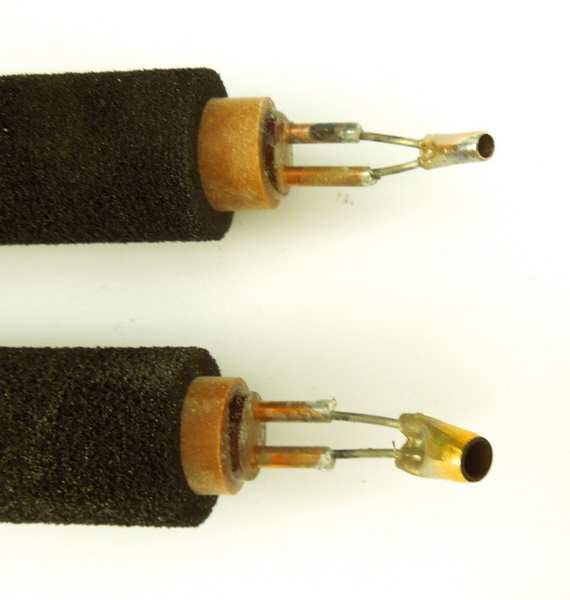 New -    Circle Burning tips

These pens will burn perfect circles quickly and neatly.  Two sizes to choose from, 1/8" and 3/16".  
$22 each

1/8"






3/16"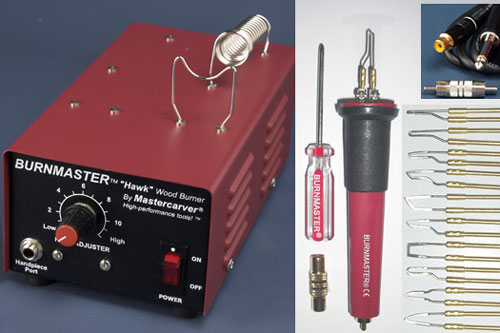 New -    Burnmaster Hawk

This is a larger, heavier unit than the Patriot 1000 burner, and has some nice features for those that do extensive pyrography and want a heavy duty unit. 

The Hawk has a micro-head adjustment feature that allows you to raise or lower the wattage delivered when using very lightweight or heavy burning pens, and can deliver up to 130 watts of power.   It  has a reset/fuse button to prevent power overloads.  This unit uses the same type of cord as the burner shown above, and will accept pens from all other brands (Razertip pens require the use of the included RCA adapter plug). 

The included pen accepts all "hot wire" replaceable tips made by all other manufacturers, and comes with 10 replaceable tips that change easily with a simple screwdriver.  The newly redesigned pen (not shown) has a slightly slimmer handle than previous models.

Warranty:  3 year- power supply,  1 year - pen          $200

* $15 for shipping to any address in the US.



Note:  This unit is also available without the pen, and the pen is available without the unit.   

Pen and 10 tips:  $80   Base unit only (includes cord and adapter plug, but no pens) : $144

Please
contact me
to order a woodburner.  (Due to packaging requirements, woodburners are usually shipped separately from other Arizona Gourds purchases.)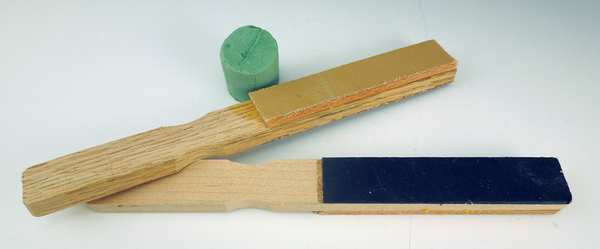 New -   Keep your burning pen tips clean and sharp with this Cleaner/Strop combo.  Use the fine sandpaper side to remove heavy carbon deposits.  Rub the included compound onto the leather side, then strop the pen tip across the surface several times to keep the tip sharp and performing at its best.

The small Strop is about 7" long x 3/4" wide.  The 1 oz. compound is a 1000 grit blend that will keep all your pens (and knives too!) honed to a keen edge.

Pen Cleaner/Strop and Compound  $8